Dining Hilton Head Style
History Dining Shopping Golf Tours & Activities
When asked about the island's best known feature, some will say it is the beautiful and pristine 12 miles of beach. Others insist it is the extraordinary beauty and variety of its numerous challenging golf courses, or for its tip notch tennis facilities. But right in there with all of those temptations is the fabulous variety of restaurants all over the island.
One of the most delightful aspects of living or vacationing on Hilton Head is the large selection of places where one may dine. The choices are endless. With more than approximately 300 restaurants, pubs, cafes, bistros, steak and seafood houses from which to choose, the island boasts a truly remarkable variety of restaurants for an island only 12 miles long and five miles wide. Specialties range from Italian and continental cuisine rivaling that of New York, Chicago and Washington DC to American favorites.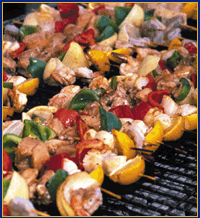 Choose a restaurant by location, perhaps overlooking the water, and enjoy some of the freshest seafood ever. As might be expected of a barrier island, Hilton Head has excellent seafood restaurants. While many of the restaurants offer truly outstanding seafood on their menu, whether or not they actually "specialize" in seafood, most of the seafood restaurants also offer alternative, scrumptious entrees, such as chicken or steak as well.
Choose an ethnic specialty magnificently prepared by a regional chef. Pop in a local spot for appetizers and a beer or a tropical drink. The only problem with dining in Hilton Head is finding someone in your party to make the difficult decision of where to go.
Many of the pubs and restaurants also offer entertainment of some sort. After dinner, relax at one of Hilton Head's night spots with a cigar and an after dinner drink. Or, if you are looking for a little more excitement, check out one of the many music or dance clubs.
Whether you're looking for Low Country dishes capturing the flavor of the region, such as Frogmore Stew, a savory South Carolina blend of shrimp, hot sausage, potatoes, and corn, or seafood dishes featuring local clams, mussels and oysters, or a juicy filet mignon, or even a burger - you won't be disappointed with the bountiful culinary offering of Hilton Head Island.
Located in Coligny Plaza, the Alligator Grille & Seafood Restaurant serves an attractive mosaic of contemporary regional cuisine. Try the Brick Oven for casual elegant dining featuring an appetizer-style menu. Next door, Monkey Business features the island's favorite musicians, and dance music with a lighted dance floor. Enjoy Starfire's wine tasting on Thursday nights, Makoto's entertaining dinner, or Kingfisher-La Pola's nightly live music.
In Hilton Head Plaza, Hilton Head Brewing Co. offers delicious family-style dining - specializing in baby-back ribs, char-grilled steaks and burgers. Reilley's is always an islander favorite, serving everything from sandwiches to prime rib and steaks. If you're looking for real home-cooking, try Remy's on Arrow Road.
If you enjoy a good cigar after dinner, The Lodge is a happening cigar bar. Then dance the night away at the Blue Nite off Palmetto Bay Road.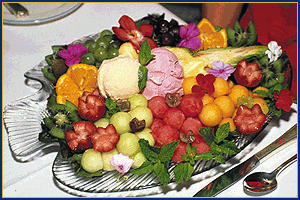 For great pizza and pasta, try Giuseppi's at Shelter Cove Plaza. Real Italians know where to go, Trattoria La Spiagga on Pope Avenue or Stellini Italian Restaurant. For take-out after a day on the beach or golf course, or after shopping at the Mall at Shelter Cove, Chick-fil-A has a great selection of sandwiches and salads. Or pick up some take-out barbeque at the Smokehouse Bar and House of BBQ or Big Bad Wolf's BBQ and don't forget the napkins.
The Cafe at Belfair offers a French Continental selection, specializing in fresh seafood, veal and roast duck accompanied by sauces that will delight. The Spartina Grill has the taste that everyone is talking about.
While in Sea Pines, stop by the Sea Pines Center on a hot day to enjoy an ice cream cone at Ice Cream & Coffee Beans.
Recognized for its sports memorabilia as well as its casual fare is Casey's Sports Bar & Grille. For authentic Mexican fare, try Aunt Chiladas Easy Street Cafe. For German fare, Hofbrauhaus has been serving well-prepared authentic German specialties since 1973.
For breakfast, lunch and dinner, the Cracker Barrel delivers. The upstairs, family-oriented dining room at the Quarterdeck in Harbour Town serves breakfast, lunch and Sunday brunch and boasts one of Hilton Head's very finest water views and live music as well. For more breathtaking views, visit the Old Oyster Factory on Marshland Road. South Seaport Cafe at the South Beach Marina Village invites you to have a cocktail on the waterfront deck and watch the sun go down. Want true southern cuisine, try Charleston's restaurant where the in-house chef prepares homemade desserts.
And probably most frequently asked about advice of all - is where to get good seafood when you come to the island. For the freshest, most succulent seafood, try the Crazy Crab, Pepper Beach Seafood Grill, Huge Seafood Company, Fishtales, and W.G. Shuckers Seafood. You can't go wrong. Enjoy!
Click here to receive your FREE BUYING KIT
Robert Young, Broker/Owner |
blufftonrealty@aol.com
Direct Line: (843)384-SALE(7253) | Toll Free: 1-800-414-SALE(7253) | Fax: 1-888-387-6363
TOP 10 EST BUYS
|
FEATURE LISTINGS
|
ALL FORECLOSURE MLS LISTINGS
|
PROPERTIES SOLD
GOLF/ISLAND INFO
|
MAPS/WEATHER
|
CONTACT US
|
FREE MAP
|
FORECLOSURE KIT
|
SHORT SALE KIT
HOME
|
SITEMAP
|
REALTOR.COM
|
PRIVACY STATEMENT